2021-2022 school year begins on Thursday, August 19th!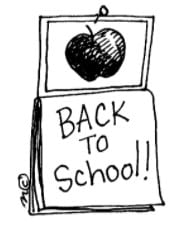 I want you to know about a few things before school begins.
⇒  Registration Packets will be available at the school entry on THURSDAY, AUG. 5TH.
⇒  These packets must be completed by THURSDAY, AUG. 12TH.  The information in the packet will help us complete our records.  There will also be information for you regarding our new school year and details to get signed up on GRADELINK and PAYSIMPLE.
⇒  There will be a Kindergarten Parent Meeting on Monday, August 16th at 6:30
⇒  There will be a School Picnic at 6:00 on Tuesday, August 17th.
⇒  School will be dismissed at 11:30 on Thursday the 19th and Friday the 20th.
⇒  OPEN HOUSE will be from 11:30-12:30 on Friday, August 20th.
⇒  SCHOOL LUNCHES WILL BE FREE OF CHARGE FOR THE SCHOOL YEAR!  The USDA has decided the universal free school lunch program will be extended another year, through the summer of 2022.
I can't wait to get another year rolling!